Features
Edit
Accurate, fast firing semi-auto pistol.
downsides include - low damage, not the best recoil when not fully upgraded, long reload.
Modifications
Edit
| Modification | Cost |
| --- | --- |
| Silencer | 1 |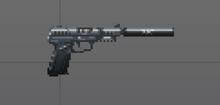 The FN Five-seven, trademarked as the Five-seveN, is a semi-automatic pistol designed and manufactured by FN Herstal in Belgium. The pistol is named for its 5.7-mm (.224 in) bullet diameter, and the trademark capitalization style is intended to emphasize the manufacturer's initials—FN.
The Five-seven pistol was developed in conjunction with the FN P90 personal defense weapon and the FN 5.7×28mm cartridge. The P90 was introduced in 1990, and the Five-seven was introduced in 1998 as a pistol using the same 5.7×28mm ammunition. Developed as a companion pistol to the P90, the Five-seven shares many of its design features: it is a lightweight polymer-based weapon with a relatively large magazine capacity, ambidextrous controls, low recoil, and the ability to penetrate body armor when using certain cartridge types.